As of Sunday March 1st, there were 12 confirmed cases of coronavirus (officially designated as COVID-19) in California, including one case in Sacramento county and four cases in Santa Clara county. There has also been one confirmed case in Oregon and four in the Seattle area. It is widely accepted by public health experts that the virus will continue to spread in California and the United States, although to what degree no one can say.
In this post I would like to try to address two questions: how concerned should we be and what can we do to protect ourselves?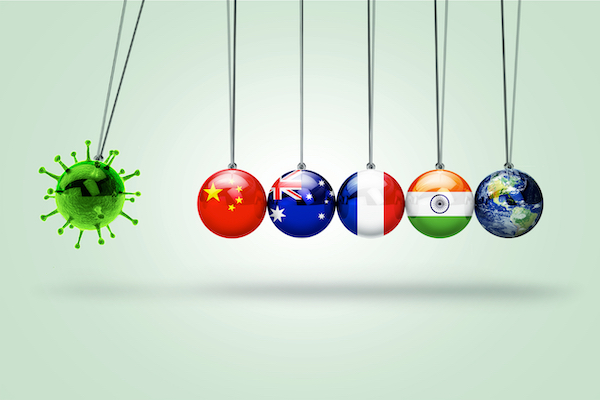 The current strain of coronavirus acts much like a flu virus, although it is in a different family of viruses. It is transmitted through respiratory droplets (coughing and sneezing) and possibly by contacting infected surfaces (door knobs, countertops, etc.). It is now thought that transmission requires fairly close contact with an infected person (perhaps 6 feet or less). The primary symptoms are fever, dry cough and shortness of breath, although other symptoms, such as muscle aches, nausea and vomiting have also been reported. As with most epidemics, the greatest concern about this virus is not the discomfort of the infection itself but its mortality rate.
The World Health Organization (WHO) reported that in Wuhan, China, where the virus first emerged, initial death rates were estimated to be 2 to 4%. However, as the virus spread to other parts of China the death rate has dropped to 0.7%. The reason for this difference is likely due to more accurate identification of non-serious cases by public health officials and a faster and more organized response by the medical profession once they understood what they were dealing with. It is impossible to know what the actual mortality rate will be until the epidemic has run its course but it will likely be closer to the 0.7% figure. On January 19th, the WHO reported that there were 924 confirmed cases outside of China, scattered over 25 countries. Of those, only three people had died. While this data is very preliminary and represents a very small sample, it again suggests that mortality rates may end up being much lower than original estimates.
The vast majority of deaths appear to be in the elderly and in adults with serious pre-existing health conditions. In short, those at greatest risk appear to be those with severely compromised immunity. 80% of those who contract the virus have relatively mild symptoms, similar to those we might experience with the flu. The time from infection to the appearance of symptoms can be anywhere from three to 24 days and, while I haven't been able to find reliable information on how long symptoms tend to last, I have seen some suggestions that the duration of active symptoms may be one to three weeks. It is clear now that infected individuals can transmit the virus prior to developing symptoms themselves. For this reason, it is important to adopt protective measures even when not around people who are showing symptoms.
Steps you can take to prevent infection
At the moment there are very few cases of coronavirus in California, however, that could change fairly rapidly. Here are some measures you can take to avoid exposure if infection becomes more widespread:
Wash your hands for at least 20 seconds frequently throughout the day using plenty of warm, soapy water. Make sure to wash all surfaces including between the fingers and under the fingernails.
Try not to touch your eyes, nose and mouth with unwashed hands.
Use an alcohol based hand sanitizer with at least 60% alcohol if you don't have access to soap and water.
Don't share towels and washcloths with others, even family members.
Avoid handling objects previously handled by others, such as cell phones, condiment bottles at restaurants, etc.
Avoid touching frequently contacted surfaces in public places, such as door handles and countertops.
Generally speaking, wearing a face mask in public at this point is probably not helpful or necessary.
For the elderly and those with a serious pre-existing health condition or compromised immunity, avoiding crowded public places is a good idea, particularly if infection becomes more widespread. If those with compromised immunity must spend time in crowded public places (such as a mall or supermarket) wearing an N-95 rated face mask is a good idea (although there has been a run on face masks and they are very difficult to obtain at this time).
Optimizing Your Immunity
The current strain of coronavirus has shown that those with compromised immunity are at the greatest risk. The best defense then, is to optimize your immunity. Here are some steps you can take:
Make sure to get adequate sleep – Sleep deprivation places a strain on the body's resources and compromises your immune defenses. You know you are getting enough sleep when you wake feeling rested and refreshed most mornings. Getting good sleep is more important than ever during an epidemic such as the one we are currently experiencing. Make this a priority and use natural sleep aids if necessary.
Stop eating sugar – The consumption of sugar and other concentrated sweeteners suppresses immunity. This can be seen clearly in diabetics who have severely compromised immunity from chronically elevated blood sugars. If you are craving something sweet, try substituting some fresh fruit.
Stay away from refined food products and junk food – Our bodies require a wide range of nutrients to function properly and these foods simply don't contain enough of them. They do, however, contain a variety of compounds, such as preservatives, dyes and oxidized oils, which are essentially toxins and place a burden on our bodies, thus impairing immune and reparative functions. They also tend to be high in sugar and refined carbohydrates, which the body quickly convert to sugar!
Increase your intake of fresh, colorful fruits and vegetables – Fresh fruits and vegetables contain the highest concentration of health and immunity enhancing nutrients of any food group by far. If you do become infected with the coronavirus (or any other pathogen) your nutritional status will play an important role in how severe the infection becomes and how quickly your body is able to fight it off.
Consider supplementation for enhanced immunity – The best time to start supplementing is before you get sick.

Probiotics – The largest percentage of our immune cells are located in the gut. Beneficial bacteria in the gut, such as L. acidophilus, helps to regulate the health of gut immune cells which, in turn, help to regulate the overall function of the immune system.
Immune enhancing nutrients – The following nutrients are well known for their immune enhancing effects and their ability to lessen the severity and duration of infectious illnesses (I am including recommended dosages): Zinc 30mg/day (or more if directed by your doctor), Vitamin C 1000mg twice per day, Selenium 200mcg per day, Vitamin D 2000iu per day (or more if directed by your doctor), Vitamin E 400iu per day.
If you get sick
If you develop a fever and cough, notify your health care provider immediately and limit your exposure to others. There are currently no recognized conventional medications for the coronavirus, however, your conventional provider may prescribe certain medications depending on your circumstances.
If you are a patient of Four Rivers Clinic, let us know that you have become infected. We can recommend natural treatments specific to your circumstances. In addition, there are a number of herbs that have shown effectiveness against previous strains of coronavirus that will likely be helpful against the current strain. We will dispense these to our patients as needed.
Final thoughts
The emergence of new diseases can be scary. Particularly because they are often portrayed in scary ways by the media. As I was wrapping up this post I happened to speak to a friend who said "I hear that if you get it you're pretty much going to die". Nothing could be further from the truth. The current strain of coronavirus that is spreading around the globe is actually far less lethal than previous epidemic strains, such as SARS. It is, however, quite infectious, meaning that it is spreading rather quickly. This is partly related to the properties of the virus itself and partly related to the sheer number of people alive today and the freedom and frequency with which we travel around the globe.
This virus does not appear to pose a serious threat to those who are relatively healthy. The elderly and those w/ serious illnesses should take every reasonable precaution until the epidemic passes, which it eventually will. The good news is that we now understand enough about the virus that we can take appropriate measures to limit our chances of exposure as well as proactive measures to enhance our body's ability to fight it off, should we become infected.
Update – March 2, 2020: Things are moving quickly with this epidemic/pandemic. Less than 24 hours after I finished writing this post, the Economist, a well respected news magazine, reported: "Hubei province, the origin of the epidemic, has a population of 59m. It has seen more than 65,000 cases and a fatality rate of 2.9%. By contrast, the rest of China, which contains 1.3bn people, has suffered fewer than 13,000 cases with a fatality rate of just 0.4%." This again suggests significantly lower mortality rates than initially reported, which is good news. It also suggests that increased efforts by the Chinese health care system have had an effect in reducing the impact of the epidemic, which is also good news. This does not, however, mean that we can afford to be complacent. This is a quickly spreading virus and it is quite possible that it will infect a large percentage of our population. We encourage everybody to begin taking reasonable precautions now, including steps to improve your immune function.